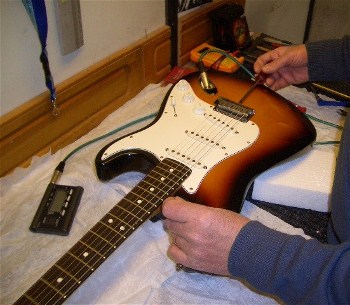 Guitars tune and play better when set-up correctly
Guitar Diagnostics and Repairs
Simple repairs and services to rebuilding an instrument
Maybe you bought a new instrument that has not been set up as well as it could before it left the factory
You may have bought a second hand instrument that looked good at the time but really needs some fixing to be easily played.
Often, older and even cheaper instruments can be restored and set up to play better than more expensive guitars.
A broken neck may not always be the end of the world
Services available for acoustic and electric guitars:
- Guitar servicing and set-up to play well
- Electrical repairs
- Pickup changing
- Tremelo set-up
- Tremelo type changes
- Fret dressing / refrets
- Neck changes and tension adjustments
- Component renewals
- New bodies supplied and set-up
- Locking strap fittings (advised for schools!)
- Scheduled annual servicing (contract packages available for schools)
- Collection and delivery service around the Helsinki/Espoo area - charged at basic km rates. If we are in the area it may not cost you anything.
Amplifiers:
Fault diagnosis and basic repairs / speaker renewals/upgrades
If we don't list it here just ask.
Locking tremelo systems need correct adjustment to work well and keep the guitar in tune
Speaker cab building and speaker supplies
I have been an agent for Celestion speakers and can supply a wide range of drivers for various applications and build custom cabinets. Some guitarists need very portable but adequately high power speakers to handle their amplifier output. Those who use Class A valve amplifiers may want the full range rock sound of a single Vintage 30 packed into a small cabinet with enough depth to produce rich bass tones as well as bright lead work. For those who are heavy shredders the 4 x 12 may need a refit with something that will handle a lot of power.